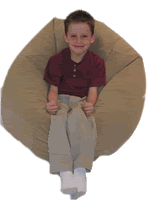 Summer is almost over and another school year is right around the corner. Are you ready? Or at least as ready as you can be?


Children's educators are just about the most important people around and are most certainly high on the list of exceptional role models. If you are a teacher, and that includes the people that home school their children, you already know how important you are to those growing young minds. Long considered a most noble profession, teaching children is a very rewarding career. You get the chance to see the look of excitement and pride when something new is learned, or a skill is mastered.


As you are probably already aware, the environment for learning can be just as important as the lessons themselves. This holds particularly true for younger children. Once you have their attention, keeping it can be a difficult task. There are different tools and methods that may be used to encourage learning in a fun and enjoyable manner. As a teacher, it is important to make the teaching area as inviting and comfortable as possible, which in turn lends itself to a learning environment.


Bright colors and bold shapes tend to be very popular with young children. It catches their eye and makes them want to investigate it further. Colorful posters on the walls and bright carpeting are great for getting their attention. You may also want to consider a reading corner, complete with several beanbag chairs in bright colors and shapes. They will love sitting in these great chairs, which just may result in a new appreciation for books and learning.