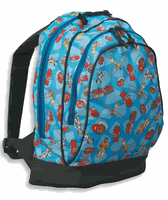 Sometimes, even though you think that you have gotten everything together that your child will need for school, there often comes an instance where you have to get a couple of things at the last minute. Even after school has started, you may find that items will need to be replaced, or you might even want to get supplies in addition to the lot that you have already purchased. After all, when it comes to your child and their education, nothing should stand in the way of a healthy school experience.


Kids Backpacks


The Fireman Backpack is just perfect when you find that you need an additional carry all for your child or the one that they already have needs to be replaced. This fun backpack is made from durable, high quality materials including polyester, strong zippers, padded straps for extra comfort and much more. Not only is it colorful and fun, this pack is just the perfect size for any young child of school age.


Perhaps your child likes to visit friends for play dates or they may even be getting ready to enjoy their very first sleep over adventures. This is a great backpack to take along with them loaded up with all of the items that they need. With great storage space and extra compartments for smaller items, you will be glad to know that you spent your money wisely on this terrific back pack. You can even get the matching lunch bag if your child wants to have a great set!